Embrace the Calm: Discover the Soothing Power of Calm Womb™ Therapeutic Essential Oil Blend
Calm Womb™ Therapeutic Essential Oil is formulated to help support the luteal phase (use the last two weeks of your cycle) for...
A calm and receptive body during the two-week wait*: Calm Womb Essential Oil is designed to create a soothing environment and promote a sense of calmness during the two week wait.
Relaxes the nervous system and calms the mind*: The essential oils in Calm Womb Essential Oil have calming properties that can relax the nervous system and promote a sense of tranquility. By calming the mind and reducing stress, this oil blend helps create an optimal environment for fertility by reducing the negative impact of stress hormones on reproductive function.
Supports hormone balance*: Hormone balance is crucial for fertility, and Calm Womb Essential Oil aids in supporting this delicate equilibrium. Certain essential oils in the blend, such as clary sage and geranium, have hormone-regulating properties that can help regulate menstrual cycles and support optimal hormone production.
Reduces inflammation*: Inflammation within the reproductive system can interfere with fertility. Calm Womb Essential Oil includes essential oils with anti-inflammatory properties, such as lavender and chamomile. These oils support the body's ability to reduce inflammation in the reproductive organs, potentially improving overall reproductive health and creating a more favorable environment for conception.
Formulated with organic therapeutic essential oils, Calm Womb™ can be used for Drop Cycle Method™, during Self Fertility Massage™, added to Womb Care™ Therapeutic Castor Oil Packs, or applied directly to the lower abdomen, ankles and feet to support the reproductive system.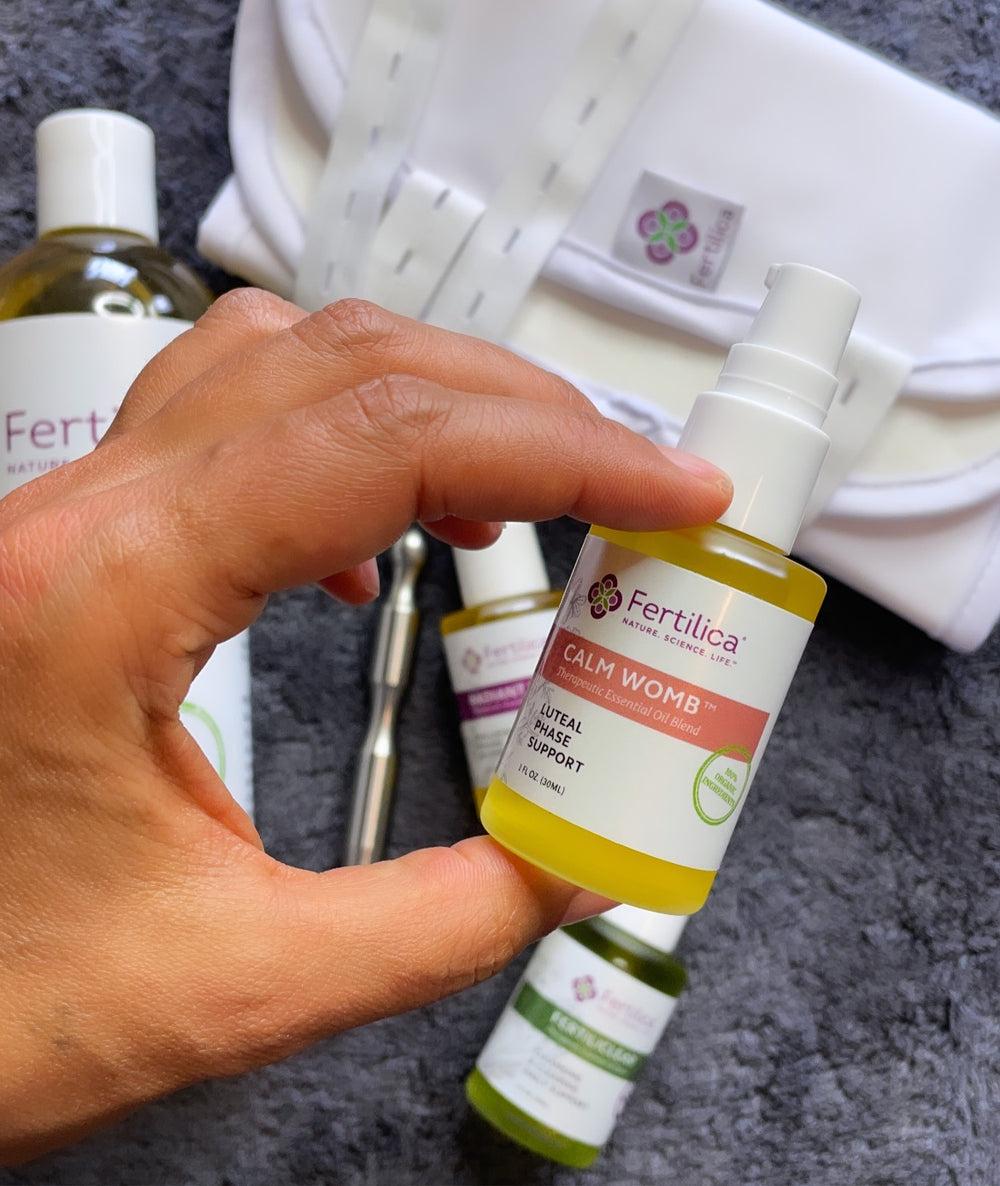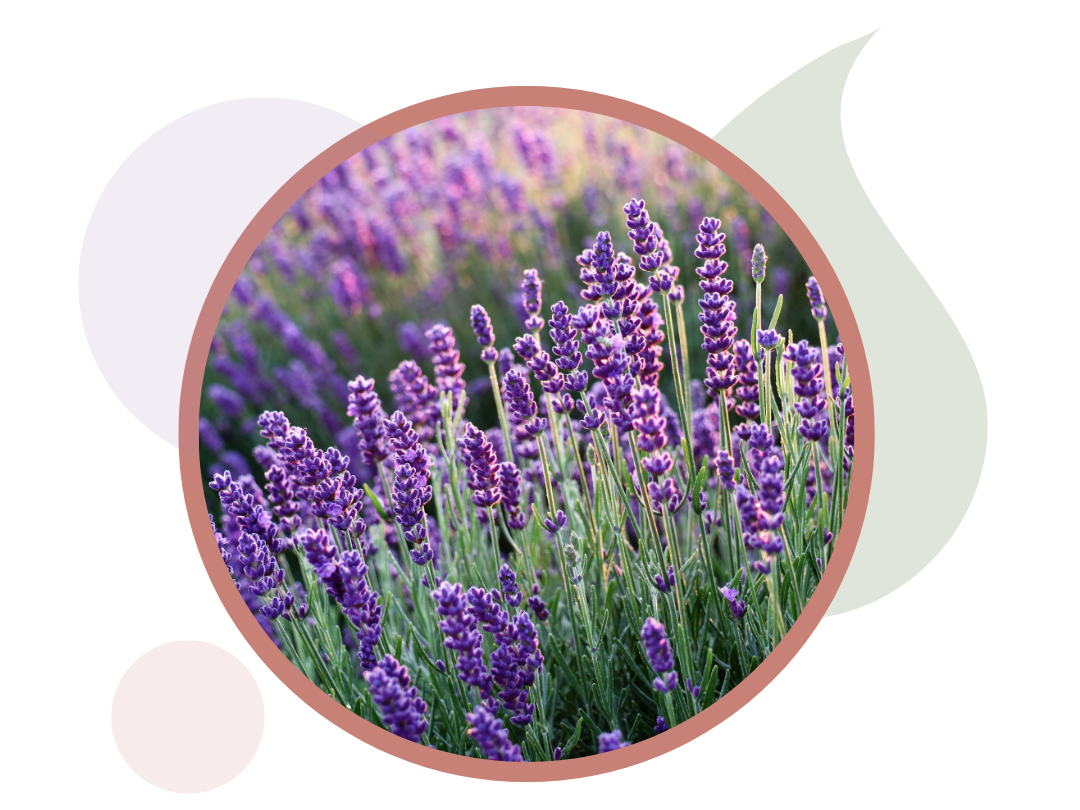 Key Botanical Ingredients Include:
Orange: uplifting & calming; reduces inflammation; promotes circulation.
Rose geranium: adrenal cortex stimulant; balances hormones; supports lymph detoxification; calming.
Lavender: calming; circulatory stimulant; hormone balancing.
Chamomile: calming; reduces inflammation.
Frankincense: regulate the menstrual cycle; reduce hormone fluctuations. 
Patchouli: relaxing; eases anxiety & stress; grounding; reduces inflammation.
Rose: soothes the spirit; highest frequency of all essential oils; calms spasms; reduces cramping and discomforts of the uterus; decreases anxiety. & stress; aphrodisiac. 
Harness the Healing Properties of Essential Oils
Essential oils are concentrated extracts from plants that contain powerful, therapeutic properties. Calm Womb is an important element of the Drop Cycle Method because of how effective it is for encouraging reproductive health.
Essential oils have been shown to assist with:
hormonal balance*

inflammation reduction*

stress relief*

healing promotion*

and immune system boosting*
The Drop Cycle Method Program includes a selection of carefully chosen, therapeutic essential oil blends that work in harmony with self-acupressure for each fertility phase to further boost fertility and promote relaxation.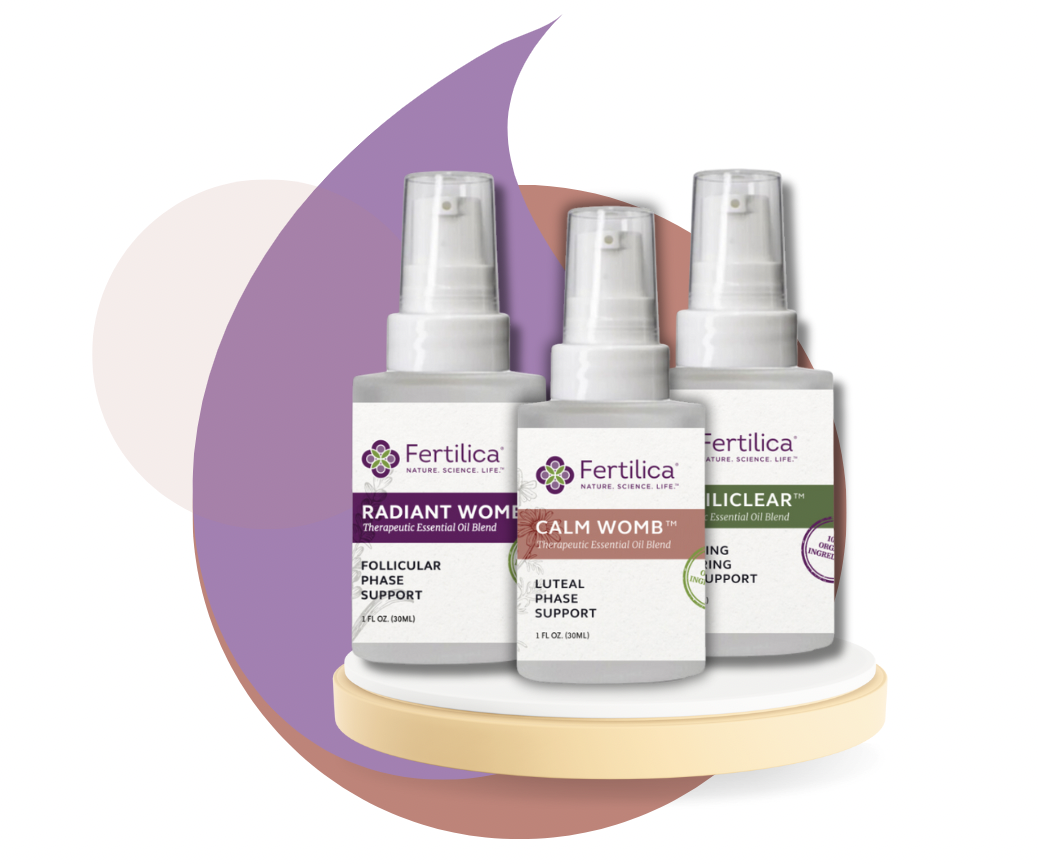 Expertly Formulated by Hethir Rodriguez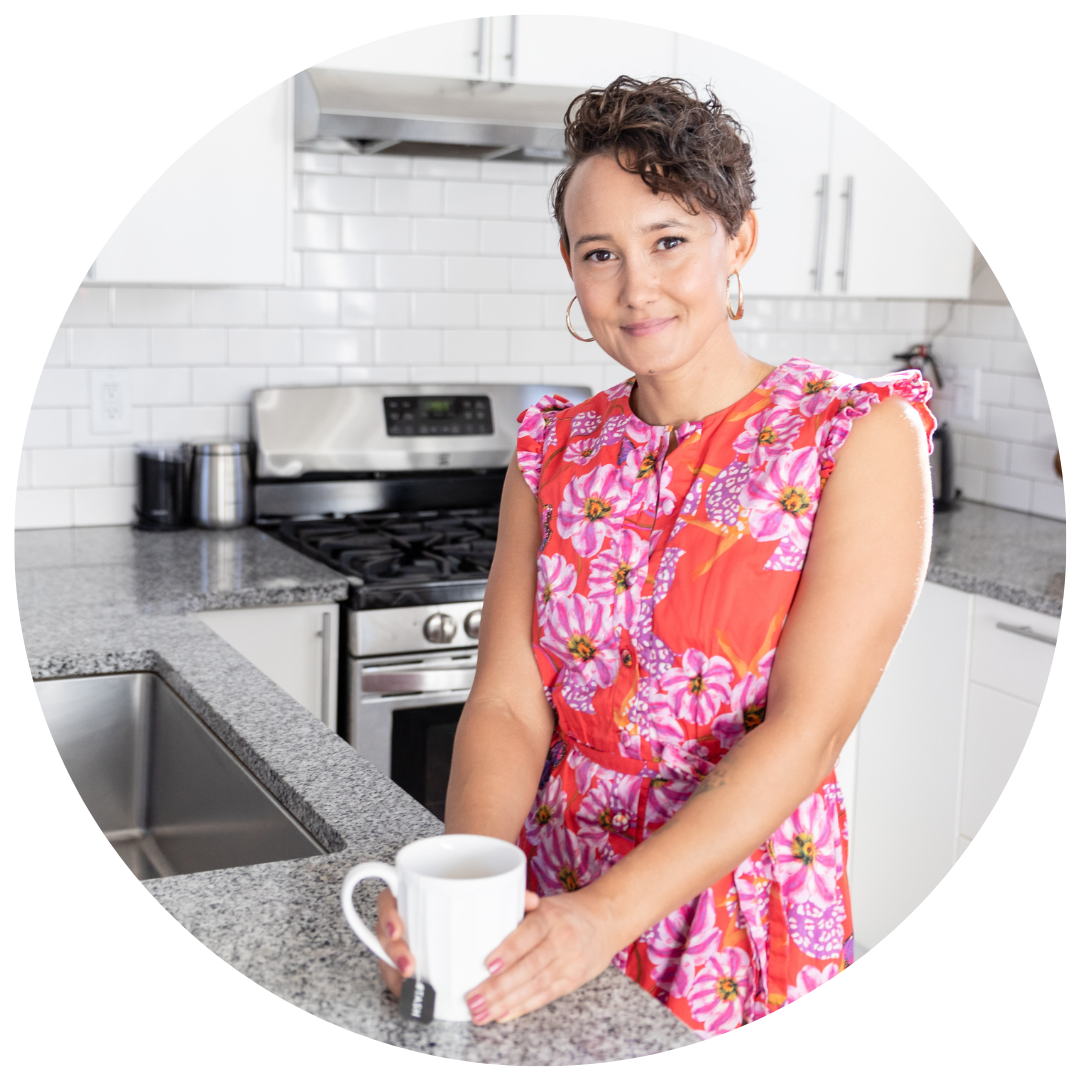 "As an herbalist and aromatherapist, I meticulously crafted Calm Womb™ with the luteal phase in mind. This therapeutic essential oil blend creates a soothing atmosphere during the two-week wait, relaxing the mind and mitigating the impact of stress on fertility. I've chosen specific oils that not only foster hormonal balance but also calm the nervous system and offer supporting overall reproductive health. From the Drop Cycle Method™ to direct application, Calm Womb™ offers versatile use in your fertility journey. Trust in the wisdom of nature captured in every drop."
Hethir Rodriguez - Herbalist, Aromatherapist, Nutritionist, Fertilica™ Founder & Mother of 2
Frequently Asked Questions
© Copyright. All rights reserved.